Usually here at The Skinny Fashionista, you typically see just photos of myself in my latest clothing, equipped with a caption of where I scored the clothes, right? Well, as the days pass, I find myself diving into newer things. One of those things being interviewing other bloggers. It was pretty hard choosing which blogger I wanted to interview for my first one, but I decided to go the easy route and interview someone I was more familiar with. I could have went with a more typical female fashion blogger, but I wanted to do something more interesting. I wanted to interview someone who covered all aspects of media, not only fashion. With this interview, I bring you Jonathan Mclean, co-founder of The Clean Slate 704 (
http://thecleanslate704.com
) . His partner, Jeff Lockhart (@NastradamusJ on Twitter) was absent for this interview, but his presence is still felt.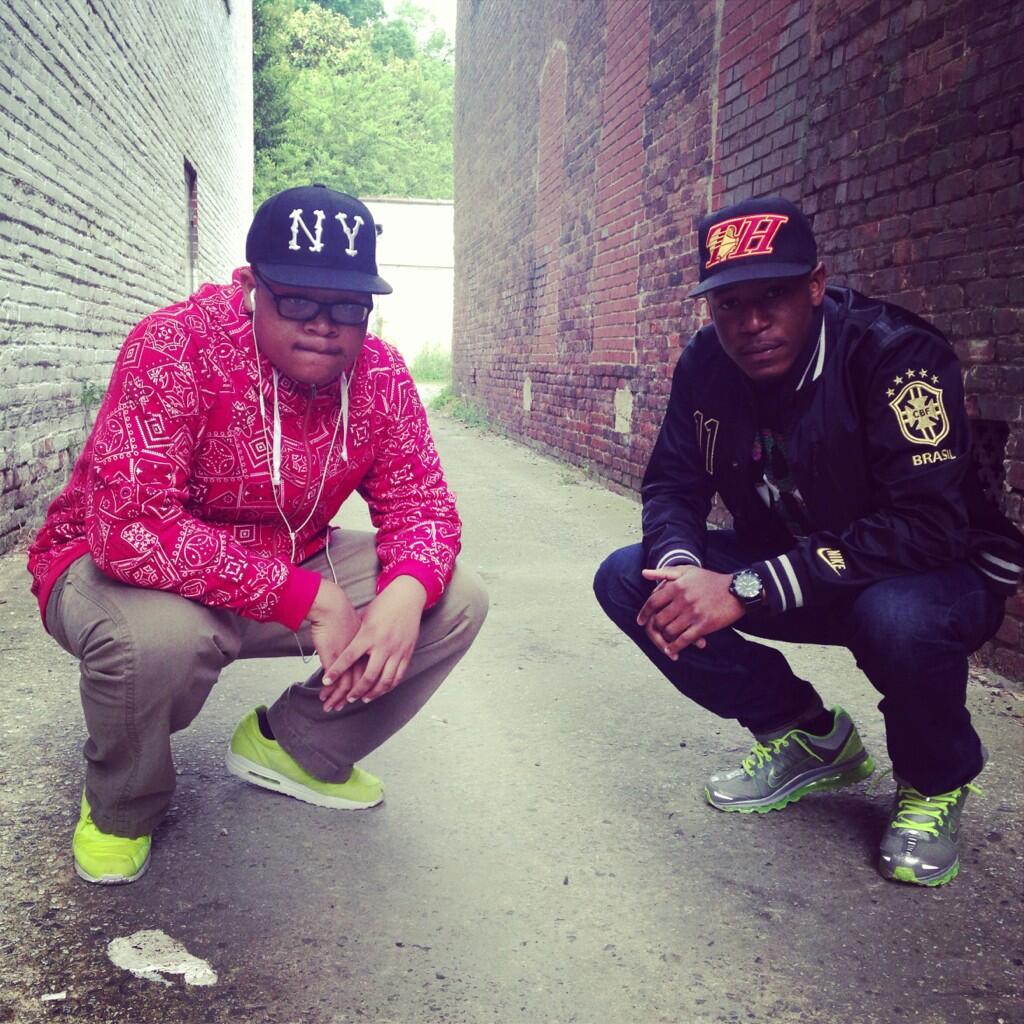 (Founders of The Clean Slate 704, Jeff Lockhart (right) and Jonathan Mclean (left). Photo courtesy of Twitter.)
T: First off, let's start with introductions. Tell the readers who you are, where you're from, your dreams/aspirations, pretty much anything. Make it as random as possible if you want.
J: My name is Jonathan McLean and I am the co-founder of The Clean Slate 704, which is a mens fashion, lifestyle and music blog/online magazine. Aside from my job there, I am a sophomore at North Carolina A&T State University where I am majoring in journalism. I was born in Charlotte, NC believe it or not where I aspire to be a journalist to work in the fashion industry with many different titles.
T: How did you come up with the name 'The Clean Slate 704'? Who came up with the initial idea?
J: I came up with the name The Clean Slate 704, but I don't really like to speak on it because it's not just me that runs this blog/online mag. My best friend/brother runs it along with me. Before we announced and drop the link to the blog I asked him if he wanted to change the name of the blog and he said no lol. Ever since then, you have had The Clean Slate 704.
T: For those that have never visited The Clean Slate 704, what exactly is it? Who and what does it cater to?
J: The Clean Slate 704 is a men's music, fashion and lifestyle blog/online magazine that caters to males. We have love for everybody and didn't want to discriminate. So therefore, in my eyes I didn't want to put a demographic on my product and leave anyone out. Everybody eats, b.
T: Has being in college expanded your knowledge on the fashion, music, and art world? Or were you already hip before college?
J: COLLEGE DOESN'T TEACH YOU ANYTHING! It just forces you to grow up and adapt to real world happenings. And no, I was already hip. Been fly since '94.
T: Where can you see The Clean Slate 704 being in five years from now? Do you plan on building an empire?
J: I don't like to necessarily 'plan' things out, Jeff and I run with each opportunity we are presented with and don't look back. But as far as 5 years from now and expanding, I plan to be in New York City in my loft overlooking skyscrapers. Empire? We are already an empire. With the addition of our 6 new contributors (you being one) we are ready to takeover and bring the black youth back in a positive way.
T: From what do you guys draw your inspiration from?
J: I draw inspiration from the people and places around me. There is nothing better than being inspired by the things and/or happenings around you. That's life. Embrace it.
T: When it comes to music, what is a must have in your collection? What is your summer anthem?
J: Jeff will tell you, I'm not really a music head. Give me crisp pair of denim, white button up and I'm good to go. BUT…it's a must I have Jay Z, Dom Kennedy and Max B. That's fly music for you. Summer anthem? I'm waiting on Dom Kennedy to release "Get Home Safely" so I can't say just yet.
T: I see that you guys have a lot of support from the North Carolina area. Do you also have other supporters from other areas?
J: Oh yes for sure. People email us all the time from all over. I could on and on. Really…I'm just thankful for the support thus far. This is only the start of something amazing.
T: Both of you have managed to score internships in New York. What was your initial reaction when you landed the position? Do you have any advice for others seeking internships in the media business?
J: First off, let me say big thanks to Complex Magazine for the opportunity, I can't thank you guys enough. I was shocked when I first received the email, but it hit me that when you put in work good things come in return, so all I could do was thank God. For advice, I would say dominate social networks. Don't just use them to score females off the late night, but use them to get ahead of the guy that's trying to score females off the late night. You will thank me later.
T: Last but not least, here's a fashion scenario – It's a blazing summer day and you're going to a music festival, something like Coachella…what do you wear?
J:
Easy. White short sleeve button up, floral printed shorts, a low top Nike (probably an Air Max 1), gold watch and my gold Cartier frames. It doesn't take much to be "fly". All you need is confidence and more confidence and half the battle is already won.
As you can see, Jonathan here is a very well rounded young man indeed, an inspiration to myself as I too take this blogging path. I am honored to be a guest writer in the future for The Clean Slate 704 and I wish these two young men nothing but the best. Sending good vibes their way without a doubt. To see the greatness for yourself, visit
http://thecleanslate704.com
and also follow Jon on Twitter @J_Clean .
xoxo,
the skinny fashionista.